About the Project
The project "Social entrepreneurship development in the in the Baltic Sea region" has been granted within Erasmus+ programme and started its realization in September 2014. BISER joined the Network in 2017 and now actively supports it via Erasmus+ project "InDigiSE – Promotion of social entrepreneurship in the youth sector by digital and informal education tools".
InDigiSE aims at delivery of youth-oriented, innovative educational tools to develop the entrepreneurial competence in the field of social economy and engage youth within social entrepreneurship.
Its duration will be 24 months starting from April 1st 2020 and closing on 31st March 2022, and the total amount received from Erasmus+ fund is 143.307€.
The project is led by Klaipedos Universitetas from Lithuania with the joint efforts of Kristiansand katedralskole Gimle (Norway), Baltic Institute for Regional Affairs (Poland), Socialas Inovacijas Centrs (Latvia) and Stowarzyszenie Gmin RP Euroregion Baltyk (Poland).
In the project, we will present information on social entrepreneurship and social innovation from www.socialenterprisebsr.net addressed to young people.
EUROPE 2020 states that growth has to be delivered through a strong emphasis on job creation and poverty reduction. Social entrepreneurship (SE) is exactly a w method to be used to overcome existing challenges as its main aim is to bring a positive impact to society.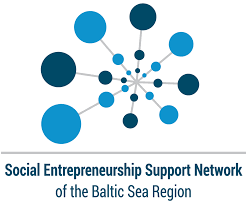 In the "Social economy and social entrepreneurship Social Europe Guide Volume 4 (2013)" it is said that several key challenges of Social economy (build be SE) are found and those are:
lack of visibility;
lack of specialised training;
lack of support network and infrastructure;
access to finance;
lack of uniform regulation.
Seven SE support organisations across the Baltic Sea developed to have a better educational and overall support for SE in the ic Sea region.
Project objectives:
Facilitate SE sector development in the ic Sea region through proper adults education;
Educate public bodies, municipalities, NGO's and other players about relevant tools of SE support at the national and regional level;
Research SE and share research findings, incorporate those in the legislative, education and other support methods and tools;
Start and promote open educational tool as a network and startup tool to start national and cross border SE activities;
Create stable SE support organizations network and the SE network.
Become a part of the network, and you will become visible. Social enterprises build viable futures – if you are one of them, let others also know about it!
http://www.socialenterprisebsr.net/
Read our BLOG and keep up-to-date on the latest news and articles on social enterprises and social innovation in the Nordic-Baltic area, and beyond.